Holiday Recycling - Ask the "Masters"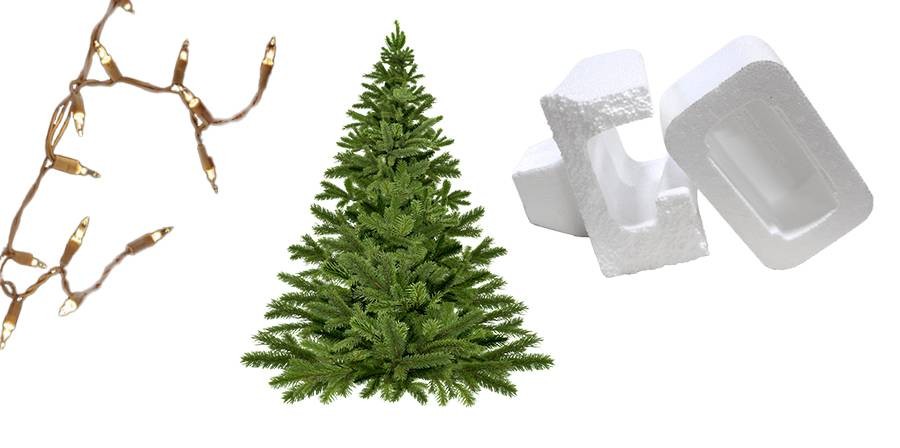 ​Waste, verb: to use or expend carelessly, extravagantly, or to no purpose; noun: an act that does so ​
​It's hard to find an example of where "waste" has been used to describe something good. Think about it: we hate wasting money, time, energy... so why do we create so much waste, especially during the holidays? Between Thanksgiving and New Year's Day, an additional 1 million tons of waste is generated ​​each week​​ in the United States.
Even the most eco-conscious merry makers may still find themselves with waste to dispose of this holiday season. Have no fear, the Master Composter Recyclers are here with tips for recycling waste you might end up with this holiday season. ​Remember: you can find reuse, recycling and disposal options for hundreds of items at RecyclingDoneRight.com, anytime! Prefer using a mobile app? Download RecycleRight for Apple and Android devices!​
What you have: bubble wrap, air pillows, plastic shipping envelopes, or other film plastic
Film plastic should NEVER go in your recycling cart. The film wraps around the quickly-spinning mechanisms sorting the recyclables at the transfer station and clogs the machines. The whole sort system then has to be shut down, several times each day, for workers to crawl inside and de-tangle the mess. Time is money, so slowdowns increase the cost of recycling.
How to recycle: Take plastic film to a retail store for recycling. Most grocery stores have plastic film recycling collection containers inside their entrances. Check for locations collecting film plastic for recycling, here.
What you have: wrapping paper
Half of the paper Americans consume annually is used to wrap gifts. If every family wrapped just three presents in reused materials, it would save enough paper to cover 45,000 football fields.
How to recycle: wrapping paper can be recycled in your curbside cart ​unless it contains foil (parts that are shiny, metallic-looking) or glitter! ​Shiny and glittery wrapping paper, and cards, need to be reused or go in the garbage. Check local craft groups, PTA's, creative reuse organizations and other community groups to see if they would like gently used (or new) wrapping paper to reuse for art and craft projects. Ribbon and bows should NEVER go in your recycling cart.
What you have: string lights that are burnt out
String lights contain metals and other materials that can be reused to make new products.
How to recycle: NEVER put string lights in your recycling cart. Earth Friendly Recycling in Vancouver will take your string lights and recycle them, for free. There are many retail and hardware stores that will seasonally collect string lights for recycling.
What you have: last year's holiday presents
"Oh, it's been a year and I've never used this. Thanks a lot, Uncle Bob." About 35 percent of Americans have unused holiday presents collecting dust in their closets.
How to recycle: What may have been a "dud" of a gift for you might be a "score" for someone else. Try selling the item on Nextdoor, Craigslist or Facebook. You can also give items away on local Buy Nothing Facebook groups. There are also many thrift stores that will accept donations, many of them are nonprofits that support local causes.
What you have: Christmas tree
Millions of Christmas trees end up in landfills each year, and so do all the nutrients and water those trees soaked up from the ground to grow.
How to recycle: See this flyer from our sister program, Clark County Green Neighbors, for how to dispose of natural, artificial and flocked trees. Next year, consider using a potted tree that you can plant, or one that can happily live in a pot year-round. Take a picture in front of your potted Christmas tree each year and see how it grows through the years! How fun!
What you have: holiday cards
An estimated 2.6 billion holiday cards are sold each year in the United States; that's enough to fill a football field ten stories high.
How to recycle: One of our staff members saves cards to reuse. "I take the front of the card off, recycle the back part (what's been written on) and use the front as a gift tag. I also save other types of cards to cut out the fun patterns, shapes and embellishments to remake into new cards the following year." If you're not feeling that crafty, you can recycle in your curbside recycling cart any cards that are paper (not photo paper!) and do not contain any foil (shiny), glitter, fabric or other non-paper embellishments.
What you have: Styrofoam (a.k.a. block foam)
During the waste collection, transport and disposal processes, Styrofoam crumbles easily and turns into messy confetti that's hard to keep out of the environment. Styrofoam from a new toy (or two, or three...) can also quickly overfill your garbage cart.
How to recycle: take block Styrofoam to one of the transfer stations for recycling. You can also take Styrofoam to Earth Friendly Recycling, where you can also recycle that broken electronic your shiny new one (which came packaged in all that Styrofoam) is replacing, for free.
What you have: batteries
40 percent of all batteries sold each year are sold during the holiday season. The increase in the use of batteries, in everything from electronic devices to greeting cards, has increased the incidence of battery-caused garbage and recycling system fires locally and nationwide. Battery fires can cause millions of dollars in damage to waste and recycling equipment and facilities, and endanger solid waste workers and the public. Battery fires occur when batteries are put in garbage or recycling carts and they become punctured or damaged during collection, transport or disposal. And fun scary fact: fires involving batteries commonly found in rechargeable electronic devices are difficult to extinguish because they contain the chemical lithium, which increases fire intensity when water is added.
How to recycle: For small alkaline batteries (AA, AAA, 9 volt, D, C, button-cell, whether rechargeable or not; think "batteries I can find at the grocery store"), put a piece of tape (any kind of tape!) on each end of each battery, place in a clear zip-top bag, and set the bag on top of your recycling cart on collection day. For batteries found in rechargeable electronics (like laptops and cell phones), tools and appliances (like cordless drills and electric hedge trimmers), and vehicle batteries, take them to one of Clark County's three transfer stations (a.k.a. waste and recycling facilities) for disposal at the designated household hazardous waste areas. NEVER PUT BATTERIES OF ANY KIND IN YOUR GARBAGE OR RECYCLING CARTS. There are also many retail stores that collect batteries for recycling.
By accepting you will be accessing a service provided by a third-party external to https://clarkcountycomposts.org/