21 MCR 2019 class members are taking the WasteBusters Challenge (over 50% of the class!)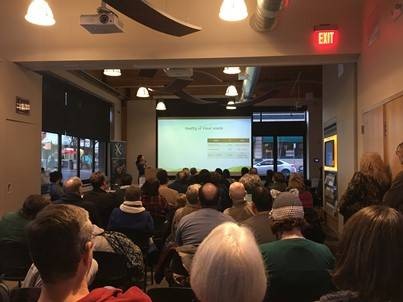 The WasteBusters online challenge started on March 1st, at the kick-off party at the Columbia Bank Community Room! This event included a speaker on waste reduction actions. WasteBusters challenges people to take steps in their day-to-day actions to reduce waste and do less with more
Of the people who attended, 23% were MCR members. The MCR's who attended logged in 100 WasteBusters points and 1 hour of MCR payback, due to 100 WasteBusters points equaling 1 hour of payback.
Listed and ranked below are the MCR's who have signed up for Wastebusters. If you would like to sign up for Wastebusters and be listed here, please go to
https://www.wastebusters.green/
if you have any questions email
zachery.mcmann@clark.wa.gov
Congrats to the MCR's taking the Waste Busters challenge!
| | |
| --- | --- |
| Heather Fisher | 515 |
| Angele Groves | 340 |
| Cassandra Dinius | 260 |
| Julie Burrell | 230 |
| (alias) L. Verde | 225 |
| Lisa Stark | 225 |
| (alias) Cinizjoy | 220 |
| Bree Jonsson | 200 |
| Mamma Badger | 190 |
| Brenda Latter | 175 |
| Gerda Jorgenson | 155 |
| Terry Avila | 140 |
| Salinda Strandberg | 100 |
| Bob Semf | 75 |
| Bonnie Murdock | 60 |
| (alias) Mammaheat | 60 |
| Summer Bradley | 60 |
| (alias) Koierland | 40 |
| Craig Ebersole | 40 |
| Denise Reed | 40 |
| Michelle Tilley | 40 |