Thank you, Master Composter Recycler volunteers!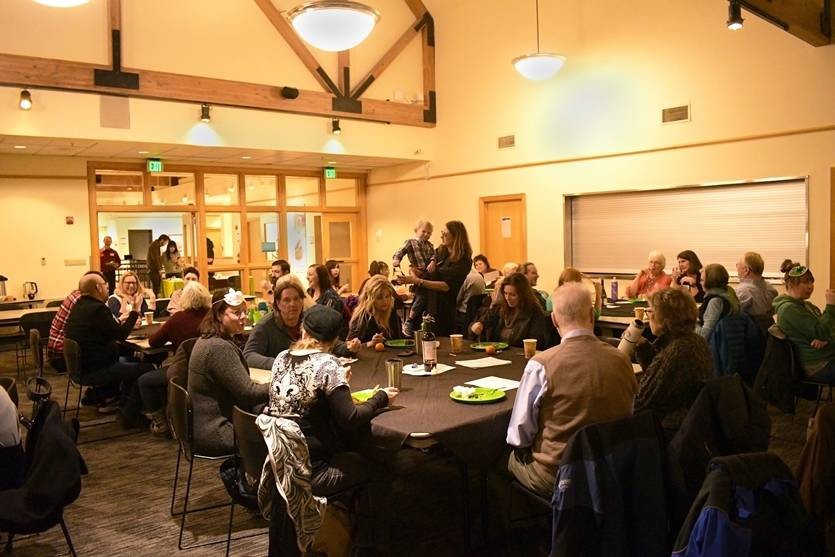 In 2019, 53 active Master Composter Recycler volunteers logged over 2,300 volunteer hours and reached over 10,000 people. They answered questions at community events, taught workshops, wrote recycling articles for their neighborhood newsletters, saved 50 tons of coffee grounds from being sent to the landfill and so much more! Their work has a big impact on our efforts to reduce waste in Clark County.
On January 16 we hosted our annual volunteer recognition event where we thank Master Composter Recycler volunteers and celebrate the impact they made in our community in the previous year. This year the event had a theme: masquerade! We had a mask making station with reused materials from SCRAP PDX and a contest for best masks. Most impressive was a team from the 2019 training and compost-making competition, the Hot Pockets, who wore costumes festooned with the logo of the snack food of the same name.
Volunteers honored included (MCR training year noted after volunteer name): Emily Barajas '18 (over 100 volunteer hours), Jennifer Wyld '18 (over 175 hours), Jill Devine '13 (over 150 hours), Kem Scorvo '18 (over 175 hours) and Ron Ferguson '18 (over 200 hours). We also recognized the amazing volunteers who served as instructors at our community workshops: Jennifer Wyld '18, Kris Potter '02, Kristen Clark '15, Summer Bradley '19 and Tina Barrows '17.
We have 33 new volunteers taking the training course now through March. We can't wait to see what creative, amazing work they do in the community in 2020!
By accepting you will be accessing a service provided by a third-party external to https://clarkcountycomposts.org/