You can create a safer and healthier indoor environment and help protect our watersheds by reducing your use of toxic chemicals in the home. Instead, you can use "green cleaners" that you make yourself. They work well, and cost a fraction of commercial cleaning supplies! Composter Recyclers can help you reduce the amount of "household hazardous waste" you produce.
Read more Request a Green Cleaning Kit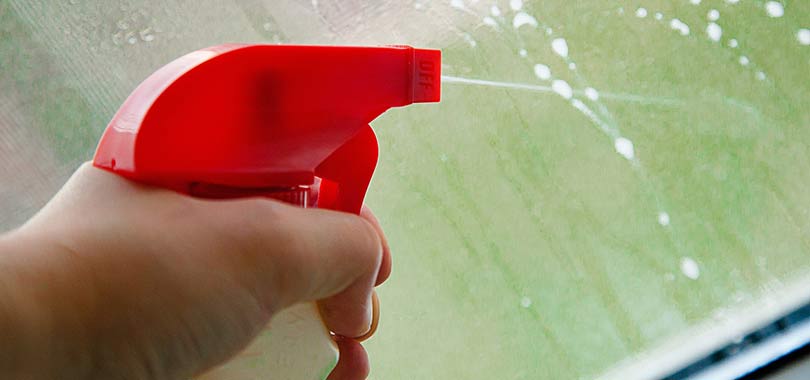 What is "household hazardous waste"?
Household hazardous waste (HHW) is any waste generated from the use of a product containing hazardous materials that, if misused or improperly disposed of, could pose a threat to human health or the enivronment. To identify potentially hazardous products, look for words on the product label such as poison, danger, warning, caution, or flammable. Most household hazardous wastes are generated from automotive products, household cleaners, paints and solvents, and pesticides.
One of the best means of avoiding exposure to household hazardous materials is to use safer alternatives whenever possible. The Composter Recycler program helps our community members create safer and healthier indoor environments that reduce household hazardous waste and reduce the environmental and health impacts of chemicals in the home. The Composter Recycler program hosts "Green Cleaning Workshops" to teach the community about eco alternatives for household cleaning. At the workshops, participants learn about HHW, cleaning supplies' impact on indoor air quality, and how to use "green" alternatives. Then, participants get to make three "green cleaners" to take home! Check the Classes and Workshops page to see if we have a Green Cleaning Workshop coming up!
Resources
Printable labels with cleaner recipe
Green Cleaning Recipe brochure
US Department of Health & Human Services Household Products Database: What's under your kitchen sink, in your garage, in your bathroom, and on the shelves in your laundry room? Learn more about what's in these products, about potential health effects, and about safety and handling.
US National Library of Medicine TOXNET: Your resource for searching databases on toxicology, hazardous chemicals, environmental health, and toxic releases.
Oregon Metro, Green Cleaning: Simple cleaning tips and recipes for a safer home.
The Environmental Working Group is a non-profit with the goal to de-mystify what kinds of ingredients are in the food, cleaning, and personal care products we use every day. They have many guides for finding safer cosmetics, food product choices for reduced pesticide levels, and many more. They also have a smartphone app avaliable for Android and Apple smartphones that has a large database of many products, many of witch can be searched by using your camera to scan the barcode while shopping!